Pune city popularly Known as the "Oxford of the East" has a rich legacy in education. Being the cultural capital of Maharashtra the city has always had an intrinsic connection with theater, music, arts and literature and been a center of learning and research in all fields.
Indian Nationalists Bal Gangadhar Tilak organised the "Deccan Education Society" in the 1880s with a few of his college friends, including Gopal Ganesh Agarkar, Mahadev Ballal Namjoshi and Vishnushastri Chiplunkar. Their goal was to improve the quality of education and create a new system of education that taught young Indians nationalist ideas through an emphasis on Indian culture . The Society established the New English School for secondary education and Fergusson College, in 1885 for post-secondary studies.
Fergusson College, named after Scottish-born Sir James Fergusson, the Governor of Bombay, has a place of pride in the hearts of the people, as a historical monument and a symbol of the country's freedom struggle. The College is known for its close association with Indian politics and has produced, several ministers and legislators, including two Indian Prime Ministers and famous authors, writers, actors and socialists as well. Fergusson was among the 19 colleges to get a heritage tag by the Central Government and UGC in 2015.
As to F.C. Road, there is another institute here – Ranade Institute, offering courses in journalism, e-learning and foreign languages. Prominent institutions like Brihan Maharashtra College of Commerce, Gokhale Institute of Economics & Politics, Bhandarkar Oriental Research Institute and Agharkar Research Institute are also located off this road. The Times of India, Pune office is located on this road. In addition, the temples of 'Padukas', that is, the wooden sandals of the saints, Sant Dnyaneshwar Maharaj at Dnyaneshwar Paduka Chowk and Sant Tukaram Maharaj at Tukaram Paduka Chowk stand on this road.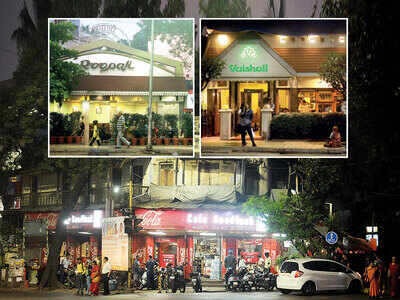 If one side of F. C. Road reflects Victorian style of architecture in Fergusson College, the other side gives you the authentic taste of South-India in Vaishali, Rupali and Wadeshwar. If one side have famous colleges and educational institutions, the other side boost your stress with a rich taste of coffee having chains like Starbucks and Chocolate Room. This road has everything you need. It is famous for its street shopping also; for which Hong Kong Lane is another attraction of this Road.
Fergusson College has a motto – Knowledge is power. It makes a person powerful and empowers to win over any condition. Inspired by this, Shivvardhan Marathon included F. C. Road as a Marathon route for their 10 km run. They believe that as knowledge helps a person to win over any condition; his inner strength also helps him to develop himself. Shivvardhan want us to know ourselves, our capabilities and emerge as a winner in every condition.
Its a great initiative taken by Shivvardhan and considering their thought we should develop ourselves by taking part in this run, explore the Fergusson College, Ranade Institute on one side and our favourite restaurants and cafes on other.
So, friends lets tie our shoe laces and run for ourselves.